Congratulations to the 2020 Cornell University and Ithaca College Graduates!
Ithaca College Commencement Weekend
May 15-17, 2020
Friday, May 15th – 5PM to 11PM
Saturday, May 16th – 3PM to 11PM
Sunday, May 17th– 1PM to 9PM
Cornell University Commencement Weekend
May 22-24, 2020
Friday, May 22nd – 5PM to 11PM
Saturday, May 23rd – 2PM to 11PM
Sunday, May 24th – 1PM to 10PM
Menu
We are proud to offer a premiere menu with a full bar and select list of Italian and Finger Lakes wines. We will offer a la carte options for parties under 6.
Parties of 6 or more must order a prix fixe menu. This offer is a fixed price per person with a set number of courses, served family style.
2019 Prix Fixe menu options are posted below as an example. If your reservation request is for 6 or more guests, we will send 2020 options via e-mail correspondence.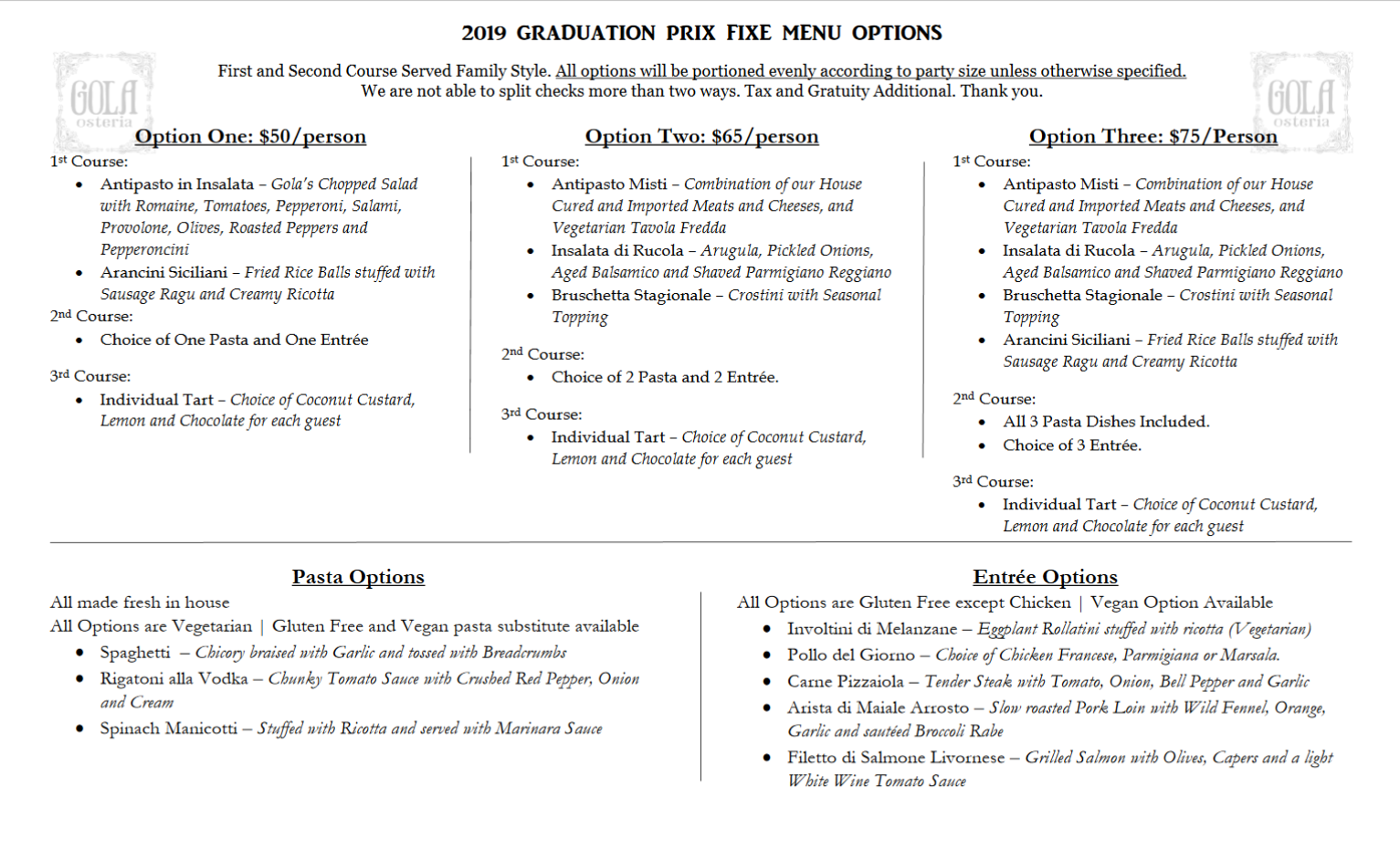 Seating Arrangements
Parties of 7 or more might not receive one long table. Large parties may be accommodated at separate, adjacent tables. We find that conversation and interaction can actually be made easier than one long, extended table. We will always strive to keep a consistently festive atmosphere.
Also, we have an expansive, fully enclosed terrace that overlooks Six Mile Creek. Please let us know if you have a preference to sit in the dining room or on the terrace.
** Seating preferences are subject to change**
Reservation Time Span
Tables are booked for two hours for parties of up to 4 guests and 2 1/2 hours for parties of 5. Parties of 6 or larger will receive a specific time span according to the number of guests in their group. Reservations begin and end at the time agreed upon and we will make every effort to have the table ready at the correct time. Your whole party must arrive at the restaurant on time and together before being seated.
Graduation Reservation contract and Deposit
Our e-mail response to your request will include all contract information required in order to hold your reservation.
To secure your reservation time and guarantee table availability, we require a signed contract and credit card number to be kept on file.* We take credit card information in lieu of a deposit. A charge of $50 per person will be levied for any cancellations or reductions in party size within the 3 weeks prior to the date of your reservation. In other words you have until 3 weeks before your reservation to cancel or reduce the party size at no additional cost. All no shows will receive an automatic charge of $50 per person.
If you are not comfortable with your credit card information being sent electronically you are welcome to call us with the information.
*All credit card and cardholder data will be stored securely in compliance with The Payment Card Industry Data Security Standard. It will promptly be destroyed the day after the reservation.
Location
We are located at 115 South Quarry Street, about four blocks up Rt. 79 from the Ithaca Commons, towards Cornell. Detailed entrance directions and parking map (showing Rt. 79 and South Quarry St) can be sent upon request.
The open air parking spots all around the Quarry Arms building are available. Please disregard the signs that say "Resident [or] Permit Parking Only." Gola is a resident of the building and that extends to our guests!
Although parking is available, we share spots with apartment residents. It may be advisable to car pool or look into taxi cabs, Uber or Lyft for transportation.
we will begin correspondence for Ithaca College and cornell university Commencement Weekend
this fall

.

Reservations are made through e-mail correspondence only. Please do not expect a reply before NOVEMBER 2019. Please e-mail your request to:
golaosteriagraduation@gmail.com.
We will need the following information:
Name

Preferred Date and Time

Number of guests (include adults, children, dietary restrictions)

Telephone number where we can reach you on the day of your reservation

Email address

Whether you prefer to be inside or on the terrace
You will receive a personalized e-mail as written approval of your reservation. The e-mail will include a contract and menu information. We will ask for credit card information at this time. If we do not have your requested time available, we will reply with the time slots that are left.
We accept reservations on a first come, first serve basis. Your email will be logged in a queue according to when it was sent.
PLEASE START A NEW EMAIL THREAD if you send a message to check on your request. Following up by replying or forwarding your original email request will push your place back in the queue.
Thank you for thinking of Gola!